You don't come from a game development background. What drew you to the field?
When I was younger I dabbled in game development but I never thought I'd make a career out of it. In fact, I was actually working on my physics thesis when I applied. The problem solving and analytical thinking skills I learned while studying are also relevant to coding. Gameplay Programming (GPP) matches surprisingly well with my background.
You jumpstarted your career at RedLynx in Ubisoft's global Graduate Program. What makes the program so special?
The Graduate Program is a fast-track two-year program for those with little or no experience in the industry. The first year you work at your "home" studio (in my case, that was RedLynx in Helsinki) and the second year you work abroad in another Ubisoft studio. The goal of the program is to dive into real responsibilities from day one and take part in an international and intensive learning and development program. You learn new skills really quickly. I learned to turn game design rules and gameplay elements into fun, playable sequences. It's a very cool opportunity and I'm lucky to have been part of it.
You've worked in Ubisoft studios in two different countries. How was the experience?
I had no idea where I was supposed to be posted until a few months prior to landing the assignment in Bucharest, Romania. It's a big leap to move abroad especially if you don't know the language. Ubisoft provided lots of support: they helped with the logistics and finding an apartment. I highly recommend living abroad at least once in your life. We've built relationships outside of work as well.
"The people are the glue at Ubisoft: it's about your team members and how well you all work together. I work with killer people who have a great sense of humor."
Decode your typical day as a Gameplay Programmer.
I'm a front-end programmer and the last person on the line to create the actual gameplay features that the players interact with. In the early stages of a game I do more prototyping and brainstorming with design. During production I write code, play the game, implement changes, and talk with the designers about how things should work–like how should we do the visual effects?
If you ask me, the fun stage is bug fix mode. It's a completely different mindset than implementation mode where I can work on the same thing for weeks. Sometimes I close three different tasks per day. That's a lot of tasks in a short amount of time. It makes me feel productive!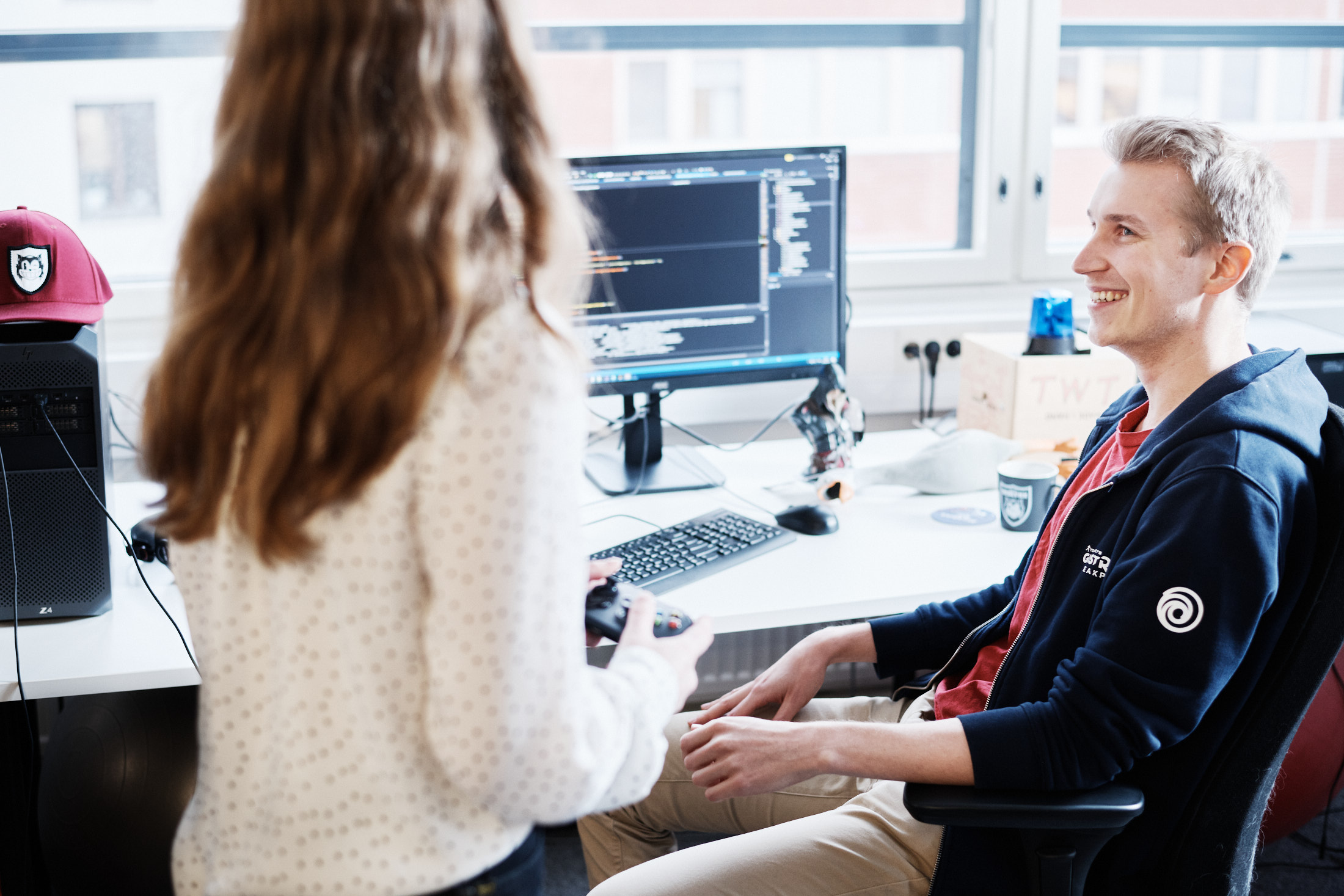 What is your greatest strength?
Being versatile. In my free time I paint, I create music. I enjoy a lot of different disciplines. Everything that I do outside of work helps to do my job.
You could also say I'm a bit of a perfectionist. And it applies to everything I do whether writing code or writing a document. When doing prototypes I tend to add visual effects and grab an action-packed short video to share with the team. The finishing touches add oomph when selling features.
Any special skills needed to do your work?
Programming is obviously a given. Critical thinking and math are right up there in terms of hard skills. You need to understand game design and how visuals work and be able to look at that in a critical way.
"Despite what people think, not all programmers hide out in caves. Game development is a team effort, which means ideally you should have good social and communication skills."
Lastly, know where your competences lie and upskill where lacking.
 Arttu's tips for an aspiring Gameplay Programmer
Work on your people skills. You are constantly collaborating with team members.
Don't be shy. Many programmers are afraid to bother people. At some point, you will need to chat with coworkers whom you've never met so don't be afraid to reach out to others.
Be specific with your questions. Do your due diligence and investigate so that you can ask the smart questions. And often you might find that simply forming the right question is all that's needed to find the answer!
Check out our open positions and apply!