Ninja, witch and wizard. Characters in the latest video game? Nope. These are the words that Meri Rekiranta, Beatrix Belányi and Vincent de Marignac use to describe their roles as Graphics Programmers on an unannounced AAA game.
AAA games are known for their incredible (and almost realistic) graphics. Not to mention the massive budget and high demands from the game developers and publishers as well as the players.
AAA games are also mind-bogglingly huge with teams often collaborating with other studios. So you kind of have to be able to hold your own, say the trio.
It is indeed daunting, notes Vincent: "Expectations are higher. There's a subtle push to create the next-gen experience with all the bells and whistles of a believable world."
Rising to the challenge
Without giving any confidential information away, Meri says the work is mostly about finding code related to what you're doing, improving that and writing all the missing pieces. On smaller indie projects, graphics programmers have a handle on the engine—either writing the code or knowing the person who wrote it because they typically sit next to each other.
She says that when you transition from indie to AAA the code base is massive. If there's a need for a new feature, most of the code required to implement said feature is already there. "Much of what I do now is read someone else's code and then put my own spin on it. In other words, I keep the renderer up-to-date and in line with artists' expectations."
Beatrix agrees: "There's more to get your head around like processes and technical challenges, and new approaches to working as part of a team dispersed around the world."
The way we organize our work is clearly different, shares Vincent: "On the flip side, we have additional resources to test what we do. The quality control process is extremely structured with automated build systems checking for bugs on other platforms."
Vincent adds that it's vitally important that his tweaks don't have a negative impact on the speed and playability of the game.
An enhanced performance of the game for the player is what we're really after, says Beatrix: "I don't really play the game as intended. I use cheats and hacks to easily reproduce various in-game scenarios to investigate the performance—a metagame so to speak."
"Expectations are higher. There's a subtle push to create the next-gen experience with all the bells and whistles of a believable world."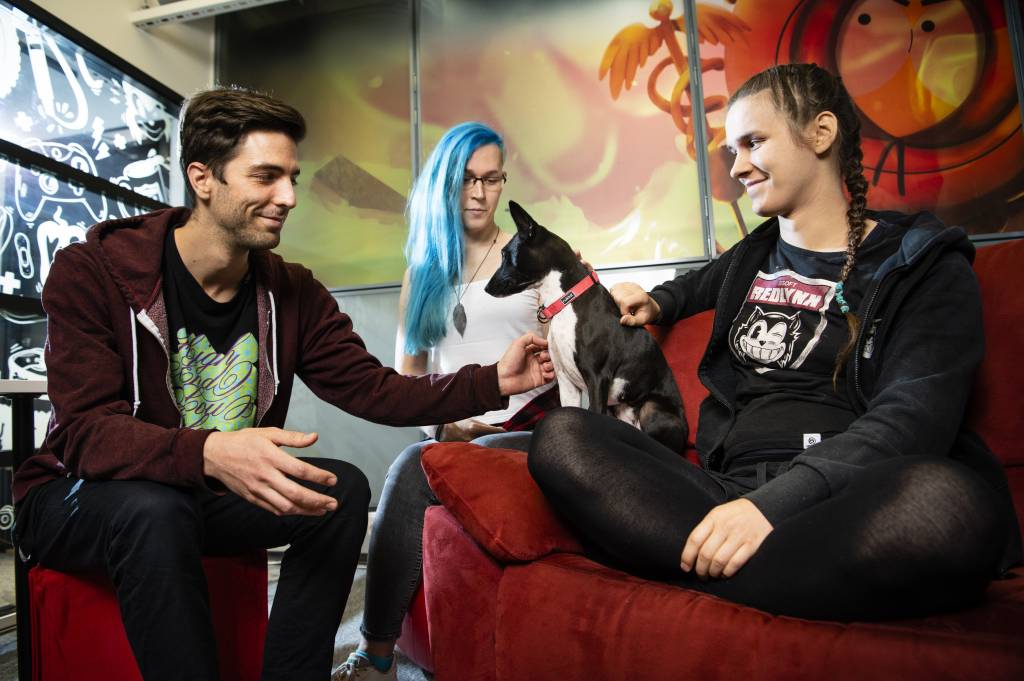 Forging a softer path
All three of our graphics programmers share that there's more than meets the eye when writing magical code. Yes, you need to be proficient in math, rendering and optimization, but it's the soft skill of mindset that matters most.
Meri likens programming to meditation, which she practices daily: "I'm a hyper-focused person and can tune into one task for an extended amount of time. Programming actually supports a meditative mindset. Meditation truly is the secret sauce to my happiness."
A curious mindset is key to Beatrix's fundamentals: "It's ok not to know everything because then you are free to access information from other team members. RedLynx has a wealth of knowledge just waiting to be tapped into."
Like Beatrix, Vincent claims an explorer mindset keeps his quest alive. Twitter is his go-to for inspiration: "My motto is to stay curious and thirsty for knowledge. This industry is constantly evolving. You either innovate or you perish."
Get to know our graphics programmers
We asked our graphics programmers hypothetically what career paths they would take if they weren't working in the gaming industry. Here are their intriguing answers.
Meri Rekiranta: Definitely something language-related such as a tour guide or flight attendant.
Beatrix Belányi: I'd for sure play guitar in a rock band.
Vincent de Marignac: I wouldn't stray too far; I'd probably be a computer graphics researcher.
Check out our open positions and apply!