How did your career in the games industry begin?
You're going to laugh. I was a professional tennis player but I had an injury that prevented me from playing at the pro level. I needed to do something else with my life. I moved to Canada to learn English – Spanish is my mother tongue by the way. Anyway, an opportunity arose to learn game design in Vancouver and I jumped at it. My first job was in Quality Assurance (QA). Ten years later I moved from Canada to Finland where I've been in my current role as a producer for about two years.
Why did you decide to work at RedLynx? 
I've been a huge fan of Ubisoft since forever. I love their commitment in creating new experiences. There are few companies in this industry as innovative. Throughout my career, I've worked in many companies. This is the first spot I feel safe, respected, and valued. The trust I receive from my manager and the leadership team keeps me motivated.
"It's a joy to work with so many talented people. It inspires me to see my coworkers full of energy and helping each other."
I actively support them, look for new ways to work efficiently, and mentor and motivate them so that they can grow in their careers. My role has a direct impact on the team. I'm like the enabler who helps the team deliver the next great game.
What does a typical day for a Producer look like?
Ha ha. The only constant is meetings, meetings, and more meetings. Otherwise every day is different. Some days I deal with personal problems; other days I deal with milestones and tasks that are blocked. In a nutshell I manage a mobile unannounced project and ensure that the team has the right processes in place and the tools to work seamlessly. Production is the glue that holds it all together. As the main point of contact, I connect with the leadership team, with licensing, with the freelancers, with our headquarters in Paris checking that the project progresses on schedule.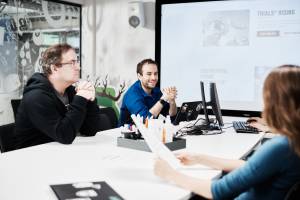 What does it take to be a good leader?
A good leader needs to care about the team members. Between you and me, I don't like to refer to myself as a lead. On paper, yes, I am one of the project leads. I'm not keen on a hierarchical system. Everyone on the team is important. They are all equals in my book. It doesn't take just the hard skills, like project management and scheduling, to succeed in this role. Soft skills such as empathy, listening, and being there as a person are equally relevant.
"You can create all the processes, manage the budget, and allocate resources but I'm not the one who delivers the tasks or the content – my teammates do that."
I'm in the people business. Without people, there's no team. Without a team, there's no project. I create a safe environment where my coworkers can succeed in their work.
Do you see a connection between your background as a professional tennis player and your current role as a producer?
Absolutely. In tennis sports psychology, the game is 80% about your brain. If you miss a point, the next point is what matters. You take what you learned in the past and do better next time. I utilize that similar knowledge and apply it at work. If I have a bad day and make a mistake, I know that tomorrow is a new day. And I make darn sure that the same mistake doesn't happen again.
Hami's tips for aspiring Producers
For me, the best way to absorb how game projects are built and managed was to start in an entry-level role in Quality Assurance. QA is the team that usually takes the responsibility when something goes wrong. Plus they collaborate with multiple disciplines.
Develop your soft skills. Game development is a creative industry. Allow team members to be creative and express themselves.
Have patience. A producer's job is stressful at times. There are a lot of eyes on your every move. Do your best to keep it together and not let little things bother you. It's a special competence to develop.
Check out our open positions and apply!