As we know, the gaming industry is a fickle market. "To be a game-changer in this business, it's imperative to innovate the technological landscape," Jason Janicki, our Senior Game Designer, notes. Technological requirements and hardware must be available before any groundbreaking functionality can materialize.
Q: How has game design evolved over the years?
Game design has always been limited by technology, but what was once far-fetched in gaming is now mainstream. "As Designers, we must temper our ideas according to what is possible. In the last forty years, we've seen games grow from moving single-pixel blocks around to photo-realistic experiences", says Jason. "As the technology grows and improves, our job as Designers is increasingly shifting from 'what is possible' to 'what could be possible", he adds.
The complexity of information that users must interface with has drastically increased over the years. "Games have become more complex over time; players are now involved with more and more systems simultaneously. If you take the same game, that was targeted at the same users, let's say 10, 30, or 50 years ago, you will find many interesting trends", says our Senior Monetization Designer Tobias Lotz.
Aku Mähönen, Senior Game Designer, rounds out the discussion by noting that games reflect the human culture and the society around us. "As games have grown from niche audiences to a popular mainstream activity, they have become more sophisticated and diverse than ever before. I expect we can see further major changes in game design as the surrounding culture changes", he says.
Q: What are your thoughts about Cloud Computing and Cloud-based streaming?
Our Expert Game Designer Juho Kontio expects cloud-based gaming services, or cloud computing, to have a profound impact on how console games play.  In fact, cloud-based gaming could be a backbone for newly released AAA games in the future. "We have yet to see the way games interact with and subsequently transition to the cloud. When it does happen, streaming will surely be a giant leap in terms of reshaping the player experience."
Jason points out that cloud-based services will radically change our gaming habits, allowing us to game almost anywhere without the need for a specific device. "I think we will eventually see a single, cloud-based device that will be our phone, desktop, and console all rolled into one", he adds.
Tobias sees cloud streaming as an interesting topic that will eventually change the way we play. "There have been a few goes at it in the past, most notably Stadia, but I think we are just not there yet. There are some hurdles to overcome but it will be wonderful when it truly works", he adds.
"To be a game-changer in this business, it's imperative to innovate the technological landscape"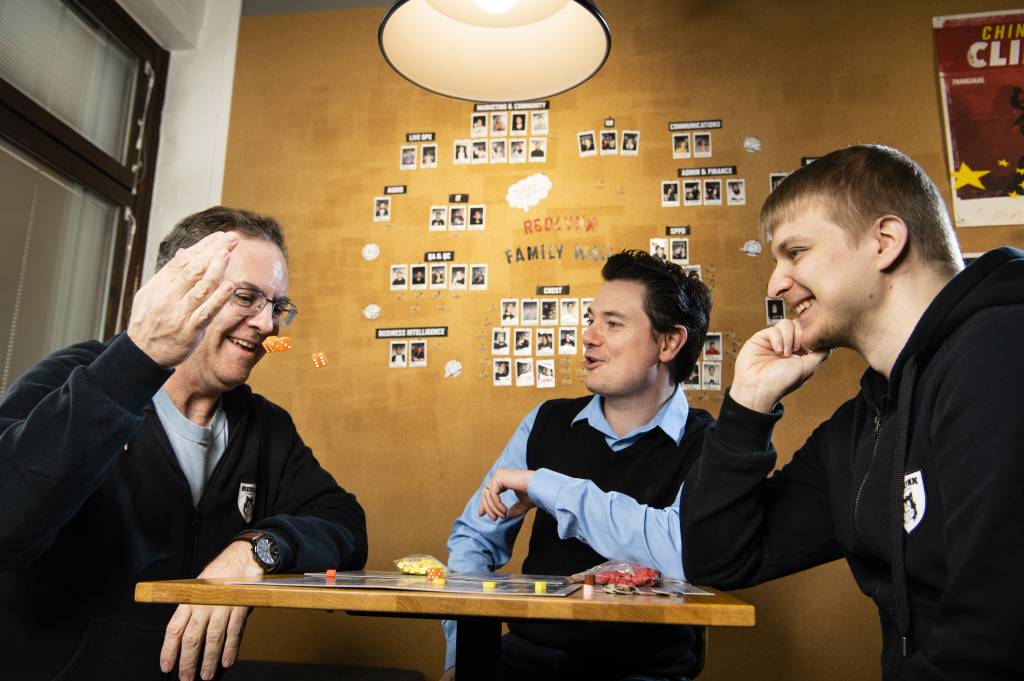 You don't have to revert too far to realize that crossplay is a strong future trend. Take Fortnite and Genshin Impact. Both are full cross-platform supported games that at one point pushed the boundary in game development as well as gameplay.
Q: What do you think about cross-platform play?
Tobias says the success depends on the game type: "You can make a good case for direct control games converging with console and mobile, however, you won't be able to control them in the same way."
Jason adds that it's inevitable. As the platform changes, the gap between technologies narrows: "Again, it boils down to what the player wants. Gameplay is the same; the control makes the difference."
"Unlike many other studios, Ubisoft RedLynx— as a multiplatform studio — is well-positioned to create cross-platform convergence", says Juho: "Games already have both versions. They might not be the same game, but they do share the same world."
"Progress transpires slowly over time, but when someone is able to converge the two sides seamlessly, bam, they've hit the jackpot", says Aku.
Q: Are there any other technological innovations impacting game design you find especially interesting?
Juho adds that in the future, game designers will pay more attention to the player psyche—what the player does and why: "As the tools get more advanced, cause and consequence will become more important. And this is where RedLynx can leverage machine learning and other artificial intelligence."
We are currently looking for welcoming quite a few new team members. Check out our open positions and apply!