Blog
Written by ShiftySamurai
Friday, 14 September 2012 15:12
We're back!
Hello again riders, and welcome to another wild episode of RedLynx TV, featuring more True Fans, missing bear madness, and all your favorite Trials and tribulations form the fun land of Finland! Featuring Euphoric Fusion, Cannibal Shogun, Antti, and even Manu.
Sit back. Relax, and prepare yourself for the latest episode of RedLynx TV.
Written by ShiftySamurai
Tuesday, 11 September 2012 15:22
Last weekend the fine people at Reflections, a Ubisoft Studio made their way over to City Library in Newcastle, UK for a #GameStars event to help children ages 8-18 learn about some of the work involved in working in the games industry and, more specifically, making games.
"From comments we received on the day from both parents and young people is it clear that many who attended the event went away feeling inspired. We hope we can do something similar in the future!" - City Library
The folks from Reflections hosted a series of talks and had workshops on design, prototyping and level design. For level design they used Trials Evolution's track editor and were a bit surprised with how quickly the kids picked it up.
Check out the article on Newcastle's City Library website, and listen to the iScream voluteers insterview the guys from Reflections.
You can find more Reflections by visiting them on Facebook and Twitter. View all the photos from the event on the City Library's flickr stream.
Written by ShiftySamurai
Monday, 10 September 2012 18:03
So, last week we announced Trials Evolution: Origin of Pain DLC for XBLA, Trials Evolution: Gold Edition for PC, and Nutty Fluffies for iOS and Android moble platforms. Needless to say, I am excited. I know what you're thinking, if there's no need in typing something, then why do it? Valid point. It must be the excitement.
Let's kick it off with Nutty Fluffies!
In Nutty Fluffies you are in control of a roller coaster filled with sweet and innocent plushies. You earn hearts by not ditching the plushies along the way. Hearts are converted to coins, and coins allow you to pick up different plushies and more carts for your coaster (The Elephant is awesome). There's a whole lot more to it than that, but you now have the idea.
Press Release for Nutty Fluffies is here!
Next up let's go over some Trials Evolution: Origin of Pain!
New BMX bike, new island, 36 new tracks + skill games, and over 100 new editor pieces make this one of the largest Trials DLCs ever!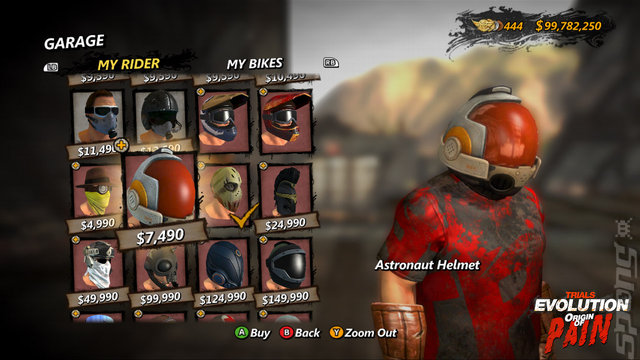 Now it's time for Trials Evolution: Gold Edition!
Since the day that Trials HD was announced for Xbox Live Arcade our fans from the Trials 2 SE days have been fairly verbal about wanting Trials HD for PC. They didn't let up a bit when Trials Evolution was announced for XBLA as well. I am stoked that we are able to bring both Trials HD and Trials Evolution back to PC. Trials Evolution: Gold Edition is going to be so jam-packed with content that I don't know how I'll be able to decide over playing on XBLA or on PC.
With close to 130 tracks and skill games from both Trials HD and Trials Evolution for XBLA included in Trials Evolution: Gold Edition it's going to be a while before you get all of those shiny platinum medals.
Heres the announcement video:
And here's the Press Release. Keep your eyes open over the next few weeks for more information about the upcoming titles from RedLynx!
Written by ShiftySamurai
Monday, 03 September 2012 00:32
Every year the fight to be the PAX Omegathon Champion is a long and hard-fought journey throughout a spectrum of gaming genres. From the boardgames of yesteryear to today's hit titles, competitors engage in an elimination tournament until only two are left standing for the final bout of adrenaline-fueled madness.
This is where Trials Evolution is stepping in.
We here at RedLynx are honored to have Trials Evolution selected for inclusion in the 2012 PAX Prime Omegathon in Seattle Washington. Imagine our elation when we were told that Trials Evolution would be included as the Final Round of the Omegathon.
Working closely with Penny Arcade we designed a brand new track specifically for this tournament of gaming supremacy. Featuring items from the Penny Arcade web comics and the Rain Slick Precipice of Darkness RPG series we are sure that fans of both RedLynx Trials Evolution and Penny Arcade will be happy with the outcome.
You can see the Penny Arcade track's debut in the Final Round of the Omegathon right now (if you are attending PAX Prime 2012 in Seattle, WA) or via the Penny Arcade Expo's Twitch.tv account. We will also make the track, entitled 'RainSlick Precipice', available to players through the RedLynx Creations feed in Trials Evolution's Track Central starting Monday, September 3rd.
Good luck to the Omeganauts from everyone at RedLynx!
Written by ShiftySamurai
Thursday, 30 August 2012 16:35
So the guys over at RoosterTeeth's Achievement Hunter have been neck-deep in Trials Evolution since before launch, when Jack P. spent a good while at the PAX East Trials Evolution Xbox machines, and continue to bust out new videos on a pretty regular basis. A ton of our community regulars have been featured in the Trials Files series, and that works out great for everyone!
We went through and made a huge forum post that includes (as of now) all 19 Achievement HORSE (PIG) and, also 19, Trials Files Achievement Hunter videos, so check it out and hit up their YouTube with awesome comments like "Keep up the Trials vids!", "Don't stop!", and "It looks like a puma...".
Here's the latest in their series Trials Files:
-Shifty out-
<< Start < Prev 1 2 3 4 5 6 7 8 9

10

Next > End >>


Page 10 of 28
Blog RSS Feed
RedLynx on Twitter