Blog
Written by ShiftySamurai
Wednesday, 19 December 2012 22:07
Friends! Fellow Riders!
The end is nigh! The Riders of Doom have been set loose upon the world!
Are you ready to secure your spot amongst the most dangerous riders in the world?
Find out now by picking up Riders of Doom for Trials Evolution on the Xbox dashboard, or through Xbox.com.
Written by ShiftySamurai
Tuesday, 18 December 2012 15:19
Cannibal Shogun brings you a satchel full of Riders of Doom DLC news and the winners from last episode's photo competition, plus a whole new challenge for the holiday season. Talking (and showing) a ton of info on the upcoming DLC, Shogun dives into editor pieces, trials tracks, supercross tracks, and even the brand new Banshee 350cc! Check it to wreck it, let's begin!
Hey guys, in a move that we're hoping brings a ton of great tracks out of the woodwork, we've created a whole new video series called New in RedLynx Picks that showcases the tracks that find their way into RedLynx Picks. In this series from the RedLynx TV crew Cannibal Shogun & RougishRonin take you on a tour of the latest custom tracks to be added to the RedLynx Picks feeds on Track Central. See what's new then go try them out for yourself!
Written by ShiftySamurai
Friday, 14 December 2012 16:24
It's closing in on that Holiday Season and you guys (the whole of the Trials Community) are awesome!

We've seen the feedback: "We want to ride the base tracks on the Gecko!"

Today we are uploading 9 tracks from Trials Evolution's base world for you to play with ONLY the Gecko 520! Who amongst you stands at the top of the pedal-powered heap?! Which tracks are going to be available? Well, we've selected a cross-section of tracks, from Beginner to Extreme, to ensure that everyone gets a track to ride on...

Well, here's the list:

1 ) Moto Madness
2 ) Ridinghood
3 ) Gas'n'Go
4 ) Rock Steady
5 ) Falling Down
6 ) Mindbender
7 ) Castle Crash
8 ) Dammed
9 ) Way of the Ninja

The only thing is that you'll need to own Trials Evolution's Origin Of Pain DLC to play them.

Where can you find the tracks? They're in RedLynx Creations. Happy Holidays, everyone!
Written by ShiftySamurai
Wednesday, 12 December 2012 19:20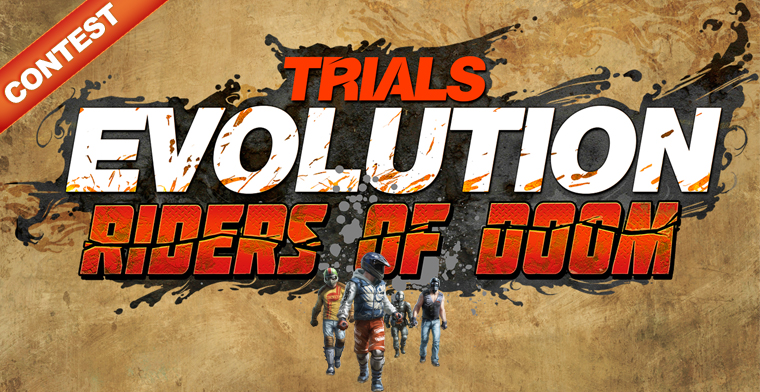 Heads up, riders!

There's a contest going on starting RIGHT now where you have a chance to walk away with one of 100 Trials Evolution: Riders of Doom DLC codes!

Enter through Facebook HERE and view the Official Rules HERE.

The Sweepstakes ends on December 21st, so don't delay!

Good Luck!


Also: Some people are having issues entering using mobile browsers and apps, entering through a PC is probably easiest.
<< Start < Prev 1 2 3 4 5 6 7

8

9 10 Next > End >>


Page 8 of 31
Blog RSS Feed