Blog
Written by BlueBadger
Thursday, 05 December 2013 16:10
At Paris Games Week we had the finals of Trials World Championship 2013. Unfortunately some of our English speaking fans didn't get to catch the livestream hosted by Cannibal Shogun and yours truly. 

So me and Shogun decided to make a recap video of what happened at Paris Games Week. So if you missed TWC 2013 finals but would still want to watch it with some popcorn and soda here's what happened:


Written by ShiftySamurai
Thursday, 14 November 2013 17:06
Hey Trials Builders, we've recently completed the final episode of New on RedLynx Picks. This episode caps off the series with a bang, as we start gearing up for the launch of Trials Fusion and Trials Frontier next year, we're running out of time to create these videos.
There's certainly not a lack of new tracks to choose from however, and we will of course continue to add Picks to the RedLynx Picks feeds in both Trials Evolution and Trials Evolution: Gold Edition. We are always looking for suggestions too, so if you find a great track be sure to let us know on this thread.
NRLP has been an insanely fun ride. After pitching the idea to Shogun, there were questions as to what kind of video quality we were hoping to produce on a weekly basis. It was a fair amount to do on top of our workloads but both Shogun and I thought that, while difficult, it would be doable.
After episode 10 we found more of a rhythm, what was taking a few hours each day for the full week was condensed down into approximately 4-6 hours total for an episode. This included video capturing, editing, audio leveling, and the all-important Voice Over.
Looking back, the first few episodes did not include any kind of VO work, and it felt like something was missing. If it weren't for Shogun "testing something" and getting that first VO (for Episode 4), then we may not have had the run that we did. The same thing goes for the "VS" episodes (Ep 5 & Ep 10). Out of all of the NRLP episodes, the VS episodes were the most time consuming, and the most AWESOME.
Will NRLP make a return? Probably at some point, even if it is only to give Shogun a chance to redeem himself against me in the Bushido Brawl. Just because we aren't currently working on track videos does not mean that we don't want to see YOUR track videos! Post them to this thread or hit us up on FaceBook or Twitter!
Shogun and I, as well as the full RedLynx crew, want to thank all of you, the Trials Riders & Builders, for giving us this much content to highlight. This series hasn't been about us, it's been about you. It's been about what you can create and what you share with other players.
Thank you for the insane creations, and we'll see you on the leaderboards.
Written by BlueBadger
Thursday, 14 November 2013 11:16
At Paris Games Week total of eight player from across the globe met in the small and big stage of ESWC.


 






























First day of competing we got our four finalists, Jani "Xrotto" Kyllönen an Marc "The_Blaze_Jp" Simpson were the players qualified on PC. Aaron "End of Assembly" Finn and David "Daveyskills" Kelly were the players qualified on Xbox 360. Even if the players aren't right next to each other on the leaderboards it became clear that in a live event like this it still was anyone's game.


 






























First one to get eliminated was Daveyskills and in the next round The_Blaze_Jp. In the finals there was no room for error and a single mistake could drop you to the last place in matter of seconds. After two rounds there was two players left: End Of Assembly and Xrotto. Both players were pushed to their limits as the final round consisted only of Extreme tracks, the hardest tracks in Trials Evolution. End Of Assembly made few huge mistakes in the first few tracks and that allowed Xrotto to pull ahead quickly. 

In the end Xrotto took the final and was crowned the Trials World Champion 2013. End of Assembly was Second and The_Blaze_Jp was third.


 



































































It's been an awesome experience to show competitive side of Trials to the world. Maybe next year we can do this again!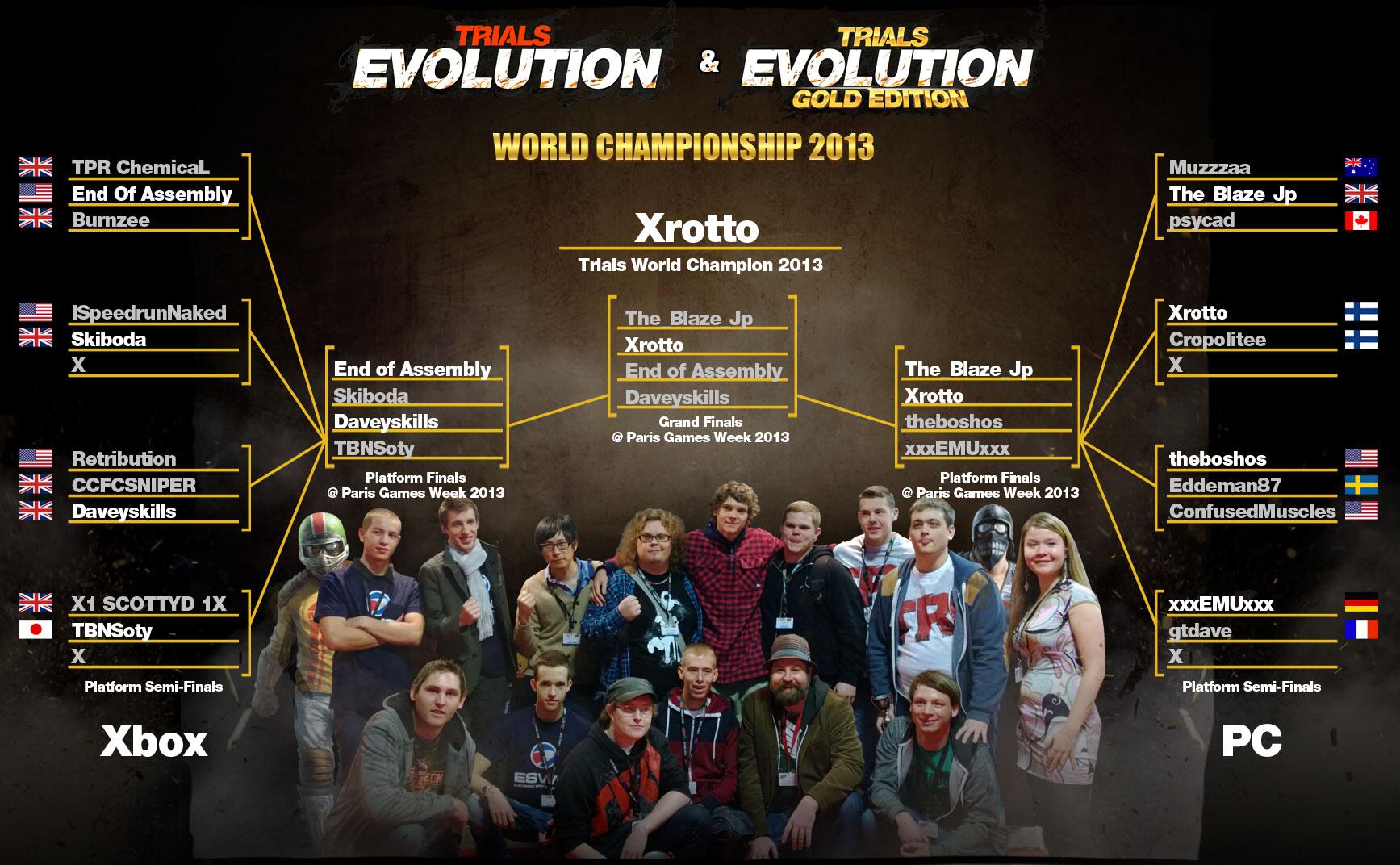 Written by Pixel Kitsune
Thursday, 17 October 2013 15:57
What do age limits in games really stand for? Do games affect real life behavior? How can we deal with game addiction? Can playing games be considered a real hobby for adults? While the heated conversation about the pros and cons of gaming is going on, the Game Educator Network strives to advance positive and responsible gaming culture and further the public discussions related to it, as well as to prevent possible harms caused by playing games. The National Game Day is a part of the Nordic Game Day and is held during 4.11-10.11 in Finland. During the week people of all ages discuss and play games together, and the goal is to change prejudices about gaming into personal experiences.

 
This year RedLynx was chosen as the official protector of the event, and Trials XBLA will be played in the official tournament during the last day of the eventful week, on November 10th. The winner of the tournament will receive a next generation console (either PS4 or Xbox One ) and the players placing 2nd and 3rd will get games of their choosing.

 
More information about the Game Day as well as the Game Educator Network can be found here (in Finnish).

               

 
Written by BlueBadger
Monday, 14 October 2013 16:12
RedLynx is proud to announce the finalists for the first Trials World Championship tournament.

Xbox 360
End Of Assembly
ISpeedrunNaked
Daveyskills
TBNSoty

PC
The_Blaze_Jp
Xrotto
theboshos
xxxEMUxxx

All the riders in the Semi-Finals gave it their best and in the end we got four players from PC and Xbox 360. At the end of October total of eight players are heading to Paris Games Week where they will compete first against the best of their own platform, then the platform winners will then meet in the Grand Final and we will find out who's the best Trials rider of 2013

 
<<

Start

<

Prev

1

2 3 4 5 6 7 8 9 10 Next > End >>


Page 1 of 31
Blog RSS Feed